PORT LUCAYA MARKETPLACE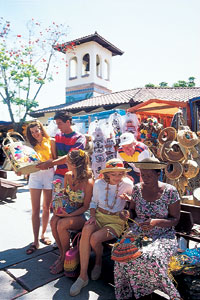 Port Lucaya Marketplace is a cobbled stoned colorful market which centers around Count Basie Square (named after the late famous resident Count Basie) with a view of the waterfront and entertainment. The marketplace has a large selection of restaurants and bars with outside seating around the square and dotted along the cobble stone sidewalks.
Boasting some 350 ft. of water, the marina is showcased along the edge of the Count Basie Square with docks making up 106 slips and able to accommodate yachts up to a 172 ft. On weekends locals and tourists alike enjoy the marketplace.   There is also one of the largest outside straw markets in the Caribbean offering hand-made straw hats & bags, casual clothing, jewelry and souvenirs. There are local crafts men who carve on- of-a- kind walking sticks, and other arts and crafts. The shops are varied with specialty stores, boutiques, and unique and popular brands that offer jewelry, china, crystal, perfume and clothes.