WEDDINGS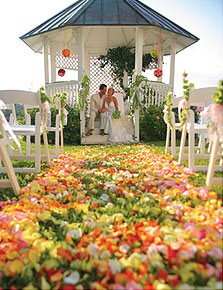 Grand Bahama Island has some of the most beautiful beaches in the world and some very lush tropical gardens making it the perfect spot to exchange your vows. In addition to its natural beauty and local color Grand Bahama is conveniently located 55 miles from South Florida, making it an easy and quick destination for you and your guests.
There are numerous resorts to choose from both in the heart of the island and in some of the outskirts if you prefer a more secluded location. Another unique feature of Grand Bahama Island is that unlike many islands, it celebrates its Bahamian culture in the restaurants, the shops, the attractions, and in the music and entertainment.
It is never too crowded; the resorts are more intimate in nature and the people very hospitable.  There are numerous wedding locations on Grand Bahama in addition to those offered by the various resorts. Our experienced Bahamas specialists and Certified Wedding Planners can assist you in selecting the right location, the right resort, and the best and most relaxing way to get to and from the island.